Far from politics and close to the ski slopes, those behind Disabled Sports Eastern Sierra announced a record-breaking season. Disabled Sports taught 20% more lessons than ever before. We might mention, that Disabled Sports offered ski lessons to Stevie Wonder this season, not to mention scores of others.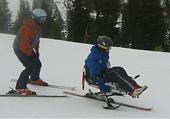 Kathy Copeland, Director of DSES, attributed the activity, in part, to the Wounded Warriors Project, which hosted ten severely wounded military men and their families in February. In fact, Disabled Sports will put on a summer Wounded Warriors Project June 2nd through the 6th. It's called Operation High Altitude.
The activities will include kayaking, fishing, hand-cycling, mountain biking and rock climbing. Kathy Copeland said that DSES is "rolling out the red carpet to those who have sustained severe injuries in Iraq or Afghanistan to show them that we appreciate the sacrifices they have made."
Copeland noted that experience shows that early intervention with active sports results in successful rehabilitation and offers wounded warriors the chance to re-build their lives through sport.