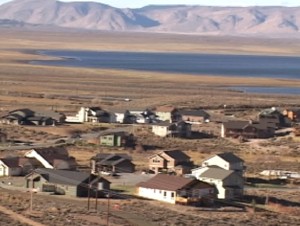 The new year brought good news for the community of Crowley Lake.  Cell phone service arrived at last right before the end of 2012.
Verizon spokesmen confirmed to us that the service was officially turned on. That's big news for Crowley, an area that has long lived without cell phone service. Highway travelers were also out of cell range. A company called Distant Towers successfully went through the planning process and managed to get a land lease from the Department of Water and Power in a location above the community that did not upset residents.
An earlier cell service project had proposed a tower right in the middle of the residential area. Objections finally put an end to that project planned for land owned by famous snowboarder Tommy Czeschin. The new project involves a private tower and service provided by Verizon. Tower owner, Robert MacLachlan of Distant Towers told us in mid-December that his part of the project was done and the rest was up to Verizon.
Heidi Flato of Verizon had explained that the company was waiting for what she called a "backhaul connection with a landline." That part of the project took longer than expected but was completed before the end of December.