In the fall, blood banks go to work to replenish supplies that are usually depleted by summer accidents and injuries, but many sources say it's not so easy.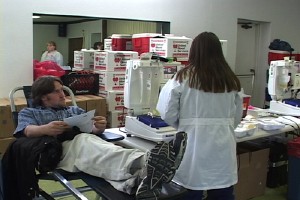 Nationwide, donor numbers have dwindled. Locally, donations in the Eastern Sierra do actually create supplies for our three hospitals. Something to keep in mind as the Bishop Community Blood Drive gets underway Tuesday through Thursday at the Catholic Church.
News reports say that the issue of blood safety has practically disappeared with a battery of sophisticated tests that can detect HIV, hepatitis, West Nile virus and much more.
The problem is lack of donors. Red Cross spokesmen have been quoted as saying that it's easier to get people to donate money than to donate blood.
Blood banks particularly need Type O blood, known as the universal blood type which can be transfused into any blood type with problems. Since an estimated 65% of Latinos have Type O, many communities have begun to promote the need among Hispanics.
The local Bishop Community Blood Drive runs Tuesday, September 18th through Thursday, September 20th at the Catholic Church, from 10am to 6pm. You can call 937-9911 to make an appointment.
The blood drive is sponso0red by Northern Inyo Hospital and the Auxiliary, Pine Creek Lions Club and Bishop Sunrise Rotary Club.
All donors receive a free cholesterol screening and a free T-shirt.