It seems that members of the Mammoth Lakes Police Officers Association have officially spoken their mind on the Steve Searles situation in Mammoth Lakes, and Councilman John Eastman, for one, is not happy with what they had to say.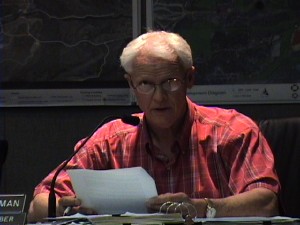 "This letter has pitted the MLPOA against Steve Searles, myself and the community," Eastman said during public comment at the Nov. 19 Town Council meeting.
Eastman had received a memorandum from the MLPOA earlier in the week that questioned Searles abilities as a Wildlife Specialist. Eastman's point, however, was that whether or not Searles was able was not the point.
"The public has spoken and trusts Searles," Eastman said. "The Town Manger Rob Clark has told the Association that they need to work with Searles because of the public perception that if they are not working with him they are working against him. The memorandum goes against Rob's request."
Eastman went on to read parts of the memorandum, which accused the Town Council of political maneuvering. Eastman, however, pointed out that the MLPOA is tone deaf to the will of the people by writing the memorandum. He mocked the portion of the letter that stated that all officers are trained as wildlife specialists, saying "Now we are reverting to Alice in Wonderland."
Eastman ended his comments with a challenge to anyone with bad stories about Searles, claiming to be able to match every one bad story with 10 good ones.
No representative of the MLPOA spoke on their behalf.
Eastman and Mayor Pro Tem Neil McCarroll plan to meet with Searles early next week to begin negotiating a position for him.