Besides the bizarre legalistic discussion of the Mammoth Bear Program, the Mammoth Town Council also recently took on the proposed ski back trail.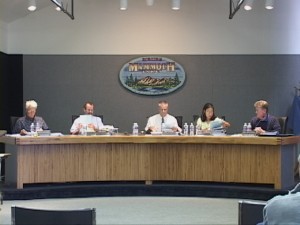 The proposed ski back trail is planned to be 22 feet wide and to connect the ski area to the Village at Forest Trail.
Proponents say that the ski back trail would help encourage feet first, transportation in Mammoth and allow people to ski directly to the Village rather than take the gondola down. Businesses in the Village are expected to get a needed boost as well.
Opponents cite the noise of snowmobiles, snow making, and grooming machines affecting neighbors who live along the proposed route. Others say that the trail will have too much flat terrain, leaving snowboarders stranded.
Mammoth Mayor Skip Harvey hikes, bikes, and picks up trash in the forest where the ski back trail is proposed to go. He expressed concerns about the effect of the ski back trail on mountain biking and the natural beauty of the area. Mayor Harvey suggested a snow play area, and perhaps a cross country ski trail all the way to Main Lodge. He also suggested a smaller trail perhaps 12 feet wide.
Mammoth CEO Rusty Gregory, who did not appear thrilled with ideas that could delay the project, asked the Mayor to clarify if he supported the project. Mayor Harvey said that he did.
Mike Schlafmann with the forest Service explained that the ski back trail would help with, but not solve, congestion as people leave the ski area in the afternoon. The village gondola can move 2200 people up the hill per hour, but at 22 feet wide the ski back trail can only handle 900 to 1200 people per hour.
Schlafmann said that he had not heard any other compelling alternatives to the ski back trail.
A few members of the audience stood up and spoke against the trail, but by far those who spoke at the council meeting were in favor.
With a comment period through the end of November, a field trip to tour the proposed ski back trail is scheduled for Saturday November 17th from 10:00 am to noon. On the 17th, forest officials say to meet at the garage complex across from the Sledz tubing hill. For more information or to submit comments, contact the Forest Service Office in Mammoth.