A fenced off ghost town – that's what some have called the former Cottonwood Plaza on Bishop's Main Street.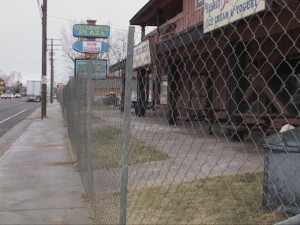 Today, crews put up a chain link fence around the entire perimeter of the center. The final business, Subway, was on the way out. All other businesses – including retail stores and restaurants – had vacated the center as demanded by the master lessee, Chuck Caldwell.
Caldwell's brother Jim was there today supervising the exit of Subway. Because of a great deal of community anger over the force-out of businesses and closure of the center, we pressed Caldwell for why they were closing the center, forcing out tenants. He stood silent and then said he had nothing to say.
Later, we did find Chuck Caldwell. He reluctantly talked and mostly pointed the finger at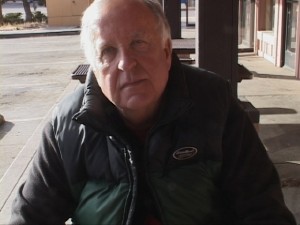 others for what is happening at Cottonwood. He told us to ask Rosemary Loven and Richard Maudsley about the future of the plaza. Pressed for answers, Cauldwell said he had no plans to demolish the plaza. He refused to say more.
Bishop City officials say they have no jurisdiction to alter the course of the center. City Administrator Rick Pucci said that there as many as 9 lawsuits are pending among the master lessee and a sublessee, plus former tenants.
The future of the center remains a mystery. Neither Caldwell nor his brother will say what comes next. The abandoned buildings do pose potential hazards. Bishop Fire Chief Ray Seguine was on hand to make sure fire protection could continue in the face of the plaza closure:
One of the last businesses to leave the center, Imperial Gourmet, does have a new building under construction with plans to re-open there at the end of the month or soon after.