The sale of Bishop's Cottonwood Plaza fell out of escrow last week and within two days entered a new escrow with new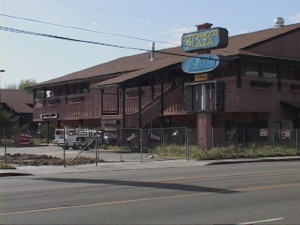 parties out of Mammoth Lakes.
Realtor Stan Smith of Pleasant Valley Associates confirmed that KK Properties of Roseville, CA backed out of the escrow last Monday, for "reasons of their own." The escrow was cancelled. Two days later, Cottonwood Plaza owner Lee Crosby entered into a new escrow with, as Smith described it, "primarily parties in Mammoth Lakes."
Stacy Bardfield of Sierra Properties in Mammoth represents the prospective buyers. Bardfield could not reveal the names of the potential new buyers but said that they would do a walk-through with the building inspector this week.
Smith said that more known factors make the situation better – a completely clear title, without any previous master lessees, and a complete soils examination with a small area of possibly contaminated soil from buildings in the area during the 50s.
Most of the details of this new transaction remain behind the scenes as the parties step through due diligence toward a sale. Smith did say that plans for the two main buildings remain under discussion. He said it is known that the new buyers would remodel the former Burger King building and create a food business that realtors said would "knock our socks off", said Smith.
Smith added that aside from this major development there are other parties who have expressed an interest in acquiring the center. No other details were immediately available except for the broader hope of a revitalized center in downtown Bishop.