The Coso Geothermal company proposal to pump water in Rose Valley in far Southern Inyo has raised high stakes concerns over the environment, tax money and potential legal action.
At the last meeting of the Inyo Water Commission, at which officials denied recommendation of Coso's plan, Assistant County Counsel Randy Keller was careful to advise commissioners that they must approach their decision without bias or preconceived opinions, based solely on evidence presented.
During public comment at that meeting, Wilfred Nabahe of Lone Pine told the Commission that he heard two Inyo Planning Commissioners say that they would push the Coso project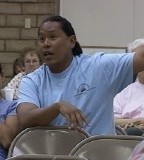 forward, implying that they had already made a decision prior to their own meeting.
Did this information violate the unbiased deliberation on the project? Attorney Keller said that all officials considering the project, including the Planning Commission, "have to be able to keep an open mind while hearing the evidence." Keller doesn't believe that what Mr. Nabahe said meant that Commissioners Sam Wasson and Paul Payne had prematurely made up their minds.
(Photo: Wilfred Nabahe)
Wasson said that he has not made up his mind. He denied that he said he would push the project through. Commissioner Paul Payne said of Mr. Nabahe, "He's like most Indians. He absorbed information, it got scrambled in his head and came out of his mouth wrong." Payne denied that he had already made up his mind on the Coso project.
The touchy project now goes to the Planning Commission March 11 at 9am at the Supervisors' board room in Independence.