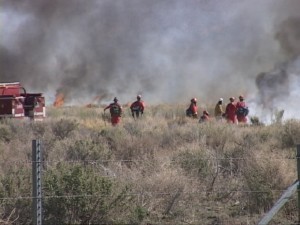 Another smoky day in the Eastern Sierra, as Forest Service controlled
burns continued in the Casa Diablo area and another DWP controlled burn in the Big Pine area. Bishop seemed to get smoke during the day from both fire areas. Local officials said they just weren't sure.
At Casa Diablo south of Mammoth, the Forest Service has burned over 1200 acres so far. Fire Prevention Specialist Andrew Kong reports that the burn today
should be the last in the Casa Diablo area this year.
Kong explained that the reason the Forest Service focused in this area of
Jeffrey Pines, sage and volcanic tuff rock, is that historically there are
a lot of lightning caused fires in and near Casa Diablo. Firefighters hope to confine future lightning-caused fires to single trees.
The controlled burns involve a large number of small fires. Kong explained that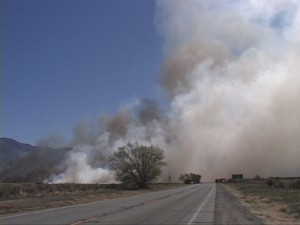 crews light the dense pine needles and dead branches underneath individual
trees, in a sense creating an island.
The burn today was slated to be the last in the Casa Diablo area for the
year, though Kong explained that additional controlled burns are scheduled
for the Mammoth area and the Mono Basin this spring.
Meanwhile, also on fire today – 100 acres north and east of Big Pine. This was a continuation of DWP's controlled burn in the area. That burned area covered land just off Highway 395 north of Big Pine and also to the east along Highway 168. The burning was expected to improve rangeland in the area.