The issue of Wilderness and use of open lands sets tempers flaring at times in the Eastern Sierra. It's an issue that has created almost as much fighting as water. Congressman Buck McKeon, who represents Inyo and Mono, has come up with what he calls a compromise Eastern Sierra Wilderness Bill. He planned to unveil it at a press conference at Bishop Airport.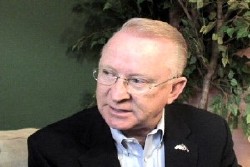 The Mono Supervisors have called for a special meeting so all members could attend the Congressman's release of his Wilderness Bill. That meeting and the release are scheduled for 1:30 Friday at the Sierra Life Flight Hangar at Bishop Airport.
Congressman McKeon's Deputy Chief of Staff, Bob Haueter, said the Congressman has worked on this bill for 2 1/2 years. Haueter disagreed with local reports that the Congressman had snubbed some Wilderness interests here during his visit a couple of weeks ago.
"We came up to meet with the parties and the first we met was Sally Miller of the Wilderness Society." Mr. Haueter said that in spite of reports of concerns among Mono Supervisors and their discussions with the Congressman, all views were heard and understood.
Congressman McKeon, according to Haueter, worked out details with Democratic Senator Barbara Boxer and may now have support to get the bill through. "We took comments about access to land and about Wilderness and forged them into a compromise," said Haueter. He called the new bill a "fair resolution."