While Bishop's Main Street hosted the world's "longest non-motorized parade" over the Memorial Day weekend, Bishop Airport welcomed an impressive four-engine jet destined to be on the front line of firefighting in the region.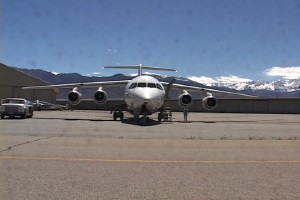 A crew of three landed a BAe 146-200, owned by Minden Air Corp, after flight-testing and pilot training near Victorville, CA earlier in the week. Acquired in January last year the aircraft is in its final stages of testing prior to being converted into an air tanker for service this summer.
The trials, designed to test the suitability of the BAe 146 as an air tanker, proved highly successful. Using instrumentation and moveable ballast in the bare-bones interior of the aircraft (formerly a commercial passenger airliner in a short-haul division of Air Canada) it was flown on typical firefighting flight profiles to gather data for final re-engineering.
Manufactured in 1989, this aircraft has been chosen for its many suitable characteristics, not least of which, its high altitude, short take-off and landing (STOL) capability.
Once converted the tanker is expected to have a water capacity of 3,000 gallons with up to 27,000 lbs of retardant onboard.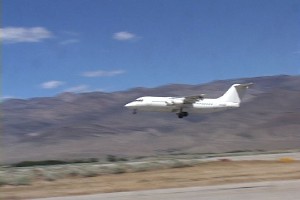 With a drop speed of 124 mph at 150 feet above ground level (AGL) and steep field approach capability combined with a cruising speed of 380 mph, range of 1,200 nm and fast fill 8-minute turn-around time it is expected to be the optimum fire fighter for the Sierra Nevada and Tahoe Basin.
Bishop Airport, which provides the necessary air tanker facility and proximity to the Sierra Nevada, should be host to the final drop testing expected to take place some time in August. Thereafter and subject to final approvals, including Supplemental Type Certificate from the FAA and certification from the Interagency Air Tanker Board, the newly commissioned firefighter may be a frequent and welcome visitor during the summer fire season.
The manufacturer, British Aerospace (BAe) now BAE Systems, has been in consultation with Minden Air Corp and expects that, "Whilst the BAe 146 Airtanker is being developed initially for the US market, the aircraft will offer a capable and economic solution to large-scale firefighting requirements worldwide."