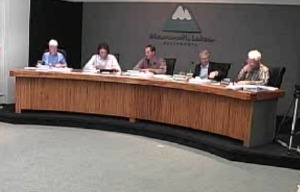 When the Mammoth Town Council met last Thursday night, none of the private anger, threats of re-call or blistering condemnations about government cuts made it to the public forum. The atmosphere was civil and for several hours, citizens did stand up to support specific services. Some strongly stood up for new taxes to help pay off the big $29.5 million debt. Others said whatever happens, the town's people have to pull together.
Privately, more than a few citizens have nearly foamed at the mouth over the proposed cut of seven police officers, Whitmore pool and other jobs. Officials have made it clear that something has to go to come up with the $2 million annual payments to MLLA.
Assistant Town Manager Marianna Marysheva-Martinez literally let her usually severe hair style down around her shoulders and the tone of the public talk was relaxed too. Martinez told the crowded room that the Council could not currently balance the budget on taxes that have not been voted on nor on tax measure money earlier committed to other things.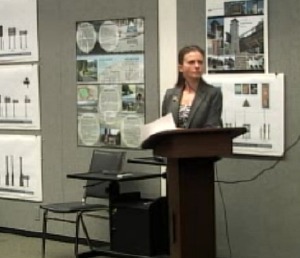 She did spell out the possibility of an admission tax on lift tickets and other event tickets, an increased utility tax and sales tax plus an additional parcel tax. All of that could raise as much as $5 million per year. On top of that, another option is to allow more single family homes to do transient rentals for more taxes. Martinez also made it clear that the Town is down to the limit and needs to build strong reserves. She said that cuts have to happen as soon as possible and that new taxes would take time to collect.
People lined up against the wall of the Council chambers and one after another, gave a view of the tough situation. Sean Turner, business owner and recreation commissioner supported cuts and borrowing from tax measures. Former Councilman Kirk Stapp said it is his personal belief that Mammoth Mountain is partially responsible for the lawsuit judgment and so a lift ticket tax is appropriate. If not a new tax, he said, shift current tax measure money. Stapp said, "Without taxes, services will be drastically reduced."
Others spoke against more single family homes renting out to tourists. Still others supported funding Mammoth Lakes Housing to maintain what amounts to a multi-million dollar asset in the Town's infrastructure – low income apartments and homes.
Mono Supervisor Larry Johnston who is the Vice Chairman of Mammoth Lakes Housing, called the organization an economic machine that has generated $68 million in the community.
Asked by Councilman Rick Wood if Mono County would help the Town keep Whitmore Pool open, Johnston said the County already spends $120,000 on Whitmore and has agreed to pay $65,000 more to help the Town keep the Animal Shelter. He did say if the Town would make a formal request for help, the Supervisors would be happy to consider it. But he made it clear that the County government is "not much above water."
Then Flossie Coulter, long time resident and co-founder of the Jazz Jubilee, laid out the evening's game changer. She said pass tax measures and get out of the problem a lot sooner. Coulter said, "You can put the blame wherever you want on this lawsuit, but we're all in this together." Rick Wood asked her if she thought the community would support new taxes. Coulter said, "It would take a lot of work, but I don't see a better alternative." She said with the new taxes Mammoth could keep its police and recreation facilities. Said Coulter, "We could keep the things a viable community needs."
Johnny Goetz agreed that if the community "works as a team we can make it happen." Goetz said $29.5 million is a lot of money but "nothing is more expensive than a missed opportunity." Some said it would be a tough climate in which to raise taxes. Still others did support new taxes.
To recent talk that the Town should get rid of one or both of its expensive managers – Dave Wilbrecht and Marianna Marysheva-Martinez who cost more than half a million combined – Mayor Matthew Lehman stood up for them. He said they work all hours of the night on issues that are far more complex than people think.
Now the issue moves on to a November 7th Council meeting for deliberations over cuts and plans. The public will be invited to comment and question then, too. Final decisions are set for December 5th.