The California Highway Patrol arrested a couple from Reno, Nevada on drug charges after an officer stopped them for a seat belt violation.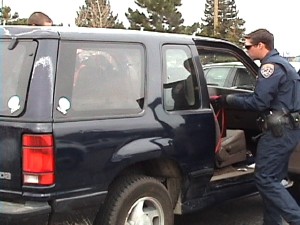 According to the CHP, an officer saw the driver of a blue mazda SUV southbound on Old Mammoth Road north of Meridian Blvd. The driver was not wearing his seat belt. The officer made an enforcement stop and contacted the driver in the parking lot of Union Bank.
The CHP said that both the driver and the passenger had suspended and revoked drivers licenses in both Nevada and California. The CHP impounded the Mazda and said that during the impound and vehicle inventory, a box was found. Inside the box, officers said they found cocaine and marijuana.
Officers arrested the driver and passenger on drug charges and driving on a suspended license.
Arrested were 20 year old Jeffrey Capurro and 21 year old Kavina Vantrees – both of Reno, Nevada. A pet dog was left stranded and picked up by local authorities who, it is believed, took the dog to the Mono County Animal Shelter.