– Press release
In 1989, Lone Pine Business and Community leaders formulated a plan to pay tribute to the extensive Hollywood heritage of the Eastern Sierra and the actors, directors and producers who had been coming for years to make films in Lone Pine and the surrounding area.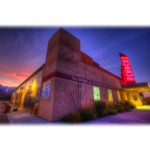 Hollywood's long standing love affair with the unique landscape brought an extensive list of talent including actors Errol Flynn, John Wayne, Gene Autry, Spencer Tracy, Robert Downey, Jr. and Jeff Bridges, as well
as directors John Ford, Budd Boetticher, William Wellman and William Witney.
The result, in 1990, was the first festival held in Lone Pine called the Sierra Film Festival, October 6 and 7. The festival was co-sponsored by a number of individuals and businesses.
The first Film Festival Program featured a proclamation acknowledging a debt of gratitude to Roy Rogers who dedicated the historical marker that was placed at Whitney Portal and Movie Road during the festival. The bronze plaque reads: Sierra Film Festival 70 years of Movie History
October 6 & 7, 1990 Movie Flats – Lone Pine Since 1920, hundreds of films and TV episodes including Gunga Din, How the West Was Won, King
of the Khyber Rifles, High Sierra, along with the Lone Ranger and Bonanza, with such stars as Tom Mix, Hopalong Cassidy, Roy Rogers, Gary Cooper, Gene Autry, Glenn Ford, Humphrey Bogart, and John Wayne have filmed in these rugged Alabama Hills with the majestic Sierra Nevada background.
Plaque dedicated by Roy Rogers, whose first starring role was filmed here in 1938.
Plaque placed by E Clampus Vitus, Chap. 395 Date: October 7, 1990
Celebrities at the first festival included: Roy Rogers, Richard Farnsworth, Rand Brooks, Eddie Dean, Linda Hayes, Pierce Lyden, Loren Janes, Jack Williams, William Witney, Irene Cuffe, and Joe Yrigoyen.
Tickets are on sale this week for the 25th Annual Lone Pine Film Festival.
This year's Silver Anniversary is a testament to the dreams of a community. The region has provided a rich and varied palette for TV Westerns, major sci-fi and action films, and as a fill-in for India, China and other Eastern locations. Hollywood's greatest actors and directors have graced the Alabama Hills and Owens Valley locations.
The area is also host to a myriad of commercials filmed each year featuring the latest autos and trucks, as well as providing a dramatic background for numerous other products.
A diverse group of celebrities will be joining the celebration.
The list includes one of Hollywood's favorite leading men, Bruce Boxleitner, along with fellow actors Johnny Crawford, Ed Faulkner, Donna Martell and Peggy Stewart. Also attending will be Academy Award winners Ben Burt and Craig Barron who will be presenting a program on sound and special affects.
Stuntmen Diamond Farnsworth (currently stunt coordinator for NCIS), Dean Smith and Loren Janes; authors David Rothel, and Miles Swarthout; film restorer Steve Wystrach, along with special guests William Wellman, Jr., Jay Dee Witney, Dawn Moore, Cheryl Rogers Barnett and Wyatt McCrea round out the guest list to date.
These celebrities will join film historian Ed Hulse, who will host our panels to share first-hand stories of their careers and memories of legends like John Wayne, Randolph Scott and William Boyd.
Producer Rob Word will host a panel celebrating the 100th birthday of Clayton Moore. In addition, David Rothel, author of over 20 books including Who Was that Masked Man? The Story of the Lone Ranger and Those Great Cowboy Sidekicks, will present a program discussing his
works including the latest to be published by the Lone Pine Museum of Western Film History, a film biography of Tim Holt.
And true to our heritage "Lone Pine, Where the Real West Becomes the Reel West;" our tenured tour guides along with the museum staff will bring you 13 exciting location tours including Ansel Adams – In the Footsteps of the Master, Audie Murphy – A Real Reel Hero, Dynamite Pass – Time Holt Rides
The Alabamas, Gunga Din and the very popular; Lone Pine – Back Lot Tour. See the website for full details on all tours.
Add a weekend rodeo round-up, vendors, book signings, Wild West entertainment and a Lone Pine Film Festival tradition – the Sunday "Main Street" Parade – "the best small town parade in America."
And don't miss our world class Lone Pine Film History Museum!
For Festival and concert ticket information – call 760-876-9103 – or visit the Lone Pine Film Festival website www.lonepinefilmfestival.org.