As money troubles mount in Inyo County government, courthouse watchers wonder at some salaries and benefits. As one confidential source put it this week, "They talked about lay-offs for the rank and file in earlier months, now they're giving cars to higher-ups."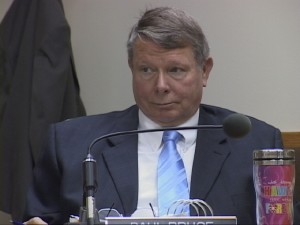 Supervisors unanimously supported assigning a car to County Counsel Paul Bruce. He can use it daily even though it was assigned based on the fact that he is required to be available on a 24-hour emergency basis.
How many times has Bruce been called out on emergencies? Officials named a couple of meetings associated with the Independence flood and mudslide.
Others pointed out that Bruce had negotiated his contract with the supervisors and agreed on a car instead of a cash salary raise, which may have actually served the county budget better.
Bruce's monthly salary amounts to $11,833 plus benefits.
Employee union officials hinted that while upper officials may get cars, it is likely that rank and file workers will be asked to car pool. Union representatives also pointed to the fact that many county officials already have a car allowance included in their salaries.
Meanwhile, in other travel matters, the County Administrator confirmed that he has asked the District Attorney's office to quit paying attorneys for their travel from Bishop to the courtrooms in Independence.