NIHD press release
Healthcare in the Eastern Sierra advanced this week with the launch of a planned Breast Health Center in the Northern Inyo Healthcare District (NIHD).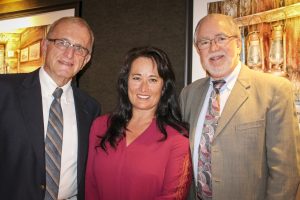 Plans for the center were unveiled during a regional medical providers dinner hosted by NIHD. Such centers, more commonly found in cities, provide in-depth breast health care, from screening and diagnosis to breast cancer treatment and supportive resources.
Breast surgeons and radiology specialists lead most centers. This is what NIHD now can offer to the communities in and around the Eastern Sierra.
Dr. Jay K. Harness, a globally-recognized breast cancer surgeon specializing in breast-preserving operations, signed on to serve as the center's consulting surgeon. Dr. Harness joins Dr. Stuart Souders, a radiologist specializing in dedicated breast imaging, and Rosie Graves, NIHD's new Patient Navigator, in rounding out the center's leadership team.
"What I'm bringing to this program is 31 years of focus on breast cancer, both the diagnosis and treatment," Dr. Harness said. "Our goal is to establish a multi-disciplinary breast cancer program and to expand the breast surgery procedures that NIHD does right now. Then we want to expand what we do for breast cancer to all cancers. The key is passionate people working together. It isn't rocket science. It's common sense."
The center will utilize Drs. Harness' and Souders' combined 60-plus years of experience in diagnosing and treating breast cancer. It also taps into NIHD's existing technologies, including 3D Mammography, Automated Breast Ultrasound, and Magnetic Resonance Imaging, or MRI.
Educational resources, guidance, and emotional support are given to patients so they can make the best decision for their health. Dr. Harness will provide a variety of breast surgeries designed to remove cancer and give the patient options for either preserving the breast or, if the patient prefers, removing it completely. Referrals to the center may come from any facility and is not necessarily limited to healthcare providers in Inyo and Mono counties.
NIHD's Chief Executive Officer Kevin S. Flanigan, MD MBA, said passion drives this new effort. "The idea is to coordinate all of this, take the advanced technology and equipment we have and mix it with the passion we have, along with the community support, and with the primary care providers who are so wedded to the care of their patient, and begin offering these services by late September."
Dr. Flanigan credits Dr. Souders with getting the Breast Health Center at NIHD off the ground. "He worked diligently for years, pushing administrators to have a discussion around the development of this service. He never wavered from this goal," Dr. Flanigan said.
Dr. Souders, while pleased to see his vision realized, said his efforts boil down to one thing. "I do it because I love this community. I love the people. I love the hospital. It's quite simple, really," he said. "I have to say this center is one of the finest to which I've been associated. It's because of the people working here, plus we have an amazing array of equipment for a hospital our size."
Dr. Harness could not agree more. "What Dr. Souders and the team have established here is quite frankly unprecedented for a hospital of this size and in this location," he said.
Discussing his approach to breast health, Dr. Harness explained he believes breast cancer is not one disease, but rather a galaxy of diseases. "The more we drill down to the molecular level, the more we realize this," he said. "A one-size approach to breast cancer does not fit all."
Dr. Harness continued, "Time is our friend. The moment someone is diagnosed, they think they need surgery tomorrow, and the reality is the lead time is often multiple months, and sometimes, several years. So, the last thing we want to do is rush off to an operating room."
Instead, Dr. Harness said it is best to gather more data and give patients treatment options so that they can begin the emotional reconstruction. "A breast cancer diagnosis is a life-altering event, and it's emotionally devastating for the patient and the family," Dr. Harness said. "Our process of embracing the patient starts with the process of emotional reconstruction."
Dr. Harness noted that with the new breast health center, the majority of care could be given here at NIHD; however, reconstruction does require the involvement of a plastic surgeon and some cases requiring radiation therapy would also require some patient travel to Reno or Los Angeles.
NIHD CEO Dr. Flanigan said this program embraces the District Board of Directors' vision that NIHD is recognized as a healthcare leader in the Eastern Sierra region through the delivery of quality care in a patient-friendly way with trusted healthcare partners like Toiyabe Indian Health Project, Southern Inyo Hospital, and Southern Mono Healthcare District. "We are on our way to making that vision a reality," Dr. Flanigan said.
Dr. Flanigan also proudly noted that the Breast Health Center services and some of the new equipment that is needed has been made possible by a generous donation made to the NIH Foundation late last year. The benefactor noted at the time that the family had been so impressed with the care received from the nurses at NIH that they wished to recognize our nurses and the compassion and skill they bring to the community by giving back to the District and the community in honor of the nurses and the care they provide.
For more information about the Breast Health Center at Northern Inyo Healthcare District, call Rosie Graves at (760) 873-2023.