Citizens spoke out at public meetings, complained about DWP, pushed their county supervisors and this year, DWP will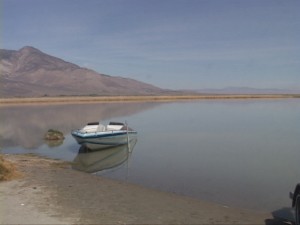 open Klondike Lake for boating six days a week. The Save Klondike Lake Committee doesn't have everything they want, but they like the additional days.
In a press release, DWP officials said they carefully reviewed all the Klondike Lake use surveys received and consulted with the Klondike Lake Committee. They decided to open Klondike Thursdays through Tuesdays starting May 27th. The Lake will close on Wednesdays and the access gate to the lake will be open for one hour a day, 9am to 10am.
To help prevent the spread of the invasive quagga mussel, DWP will inspect all watercraft before launch into Klondike. DWP will inspect boats at the Klondike entrance gate. Users will have to pre-purchase a daily use inspection receipt or a new "season pass" at the DWP office in Bishop.
During the Memorial Day holiday week, DWP will offer inspections at their Bishop office – May 24th from 8am to 4pm by appointment only. Call 873-0409.
Lake users can buy a season pass this year for $100 for the first watercraft. DWP officials said the survey conducted last March helped determine what the public wants at Klondike. Officials also noted that the current initial schedule for boating days and gate hours is "subject to change based on LADWP operational needs and observed use of Klondike Lake."