Black Sheep 10 year anniversary party!
When – 6PM to 9PM, Friday, May 15
Where –  232 N Main st – The Black Sheep Café and Coffee Roastery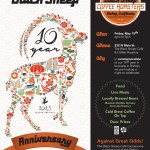 Why – In commemoration of our 10th year in business in bishop we are hosting a night of live music, locally brewed beers, food and, of course, our very own roasted coffee!
Locally brewed beers:  Mtn. Rambler & June Lake Brewery.
Peter and the Black Sheep gang welcome the community to an anniversary party tonight!