The presence of Los Angeles and its water exports have squeezed local people into some unholy choices at times. Tuesday, they struggled with water to clean up the Owens Dry Lake's toxic dust or water for ranch leases. Some locals brought that choice before the Inyo Supervisors. Local ranchers see the Dry Lake as a threat to their water.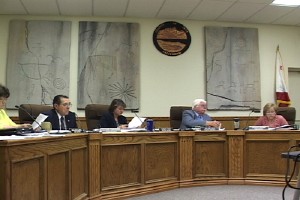 Board Chair Linda Arcularius, who also sits on the Air Pollution Control District Board, said that there is a "higher responsibility than dust. It's water resources." The dust pollution, proven to be a serious health risk comes first in state and federal law.
Members of the County Agricultural Advisory Board asked the Supervisors to look into how much water DWP had to use on the Owens Dry Lake. The Board asked Air Pollution Control Director Ted Schade to tell his side of the story. DWP will talk December 9th.
Schade told the dry lake story, starting with the fact that it was the largest single source of man-made particulate matter air pollution in the United States, caused by LADWP's water diversions.
He explained that through law, the APCD came to regulate DWP and require dust clean-up. Three proven methods were offered to Los Angeles – shallow flooding, vegetation or a gravel blanket. Schade said DWP chose water – it was fast and the cheapest choice, he said. How much water they use, is LA's choice.
Schade made it clear that DWP is in charge of how the dust is controlled. Supervisor Arcularius said she hoped for use of less water. Schade offered that APCD willingly works with DWP to conserve water.
Mike Prather of Lone Pine pointed to the growing bird life at the lake, thanks to water. Prather said to the Board, "Can we all agree at some point to balance interests? Water for wildlife," he said, "is not a waste." Prather said he would like to ask the Board to take a position that recognizes the value of wildlife resources at the Dry Lake.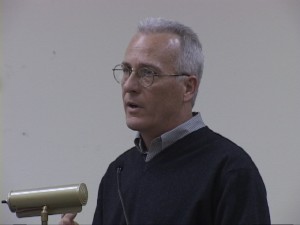 Agricultural Commissioner George Milovich said he and others want to look at the good of the whole valley, not just funnel water to one end. What Milovich and others did not say, this summer DWP seemed to cut water to some ranchers in the Bishop area. Other ranchers fear they may be next, and they view water use on the lake bed as a threat.