Sean Mitton, a sophomore at Bishop Union High School, has qualified for the CIF-SS Golf Championships with an excellent round earlier this week.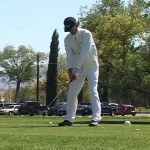 Below is BUHS assistant golf coach Dan Raftevold's summary of events from Monday's event:
The first round of CIF Golf for Individuals was held on Monday, May 13, 2013.  Assistant BUHS Golf Coach Dan Raftevold took the four Bronco qualifiers to the tournament held at the Victoria Club in Riverside;  109 golfers competed from the CIFSouthern Section, Central Individual Regional with the top 30 golfers, plus ties, moving on to the next round.
Established in 1903 and the first golf club to be built East of the Mississippi River, the Victoria Club proved to be a formidable challenge for the Bronco Squad.  Sophomore Sean Mitton was up to the task, posting a 3 over par 75 to make the cut and qualify for the second round of CIF to be held next Monday at La Purisima Golf Course in Lompoc, California.
Sean tied for 14th place and posted two birdies to stay under the cut-line, set at 78.  Other golfers from the Bronco team included Junior Joey Medora, who posted an 83, Junior Levi Kujawa, who posted an 86, and Senior Brendon Shibley who withdrew from the tournament due to illness.
Coach Raftevold said that he was very proud of all four players.  "An older course like this doesn't hold a lot of surprises.  Everything is right out in front of you but it's long, narrow, and full of trees.  You really have to think your way through it and make the risk/reward decisions off the tee."
Raftevold said that Sean stayed focused and stayed out of trouble, hitting fairways and greens and trusting his putter.  He kept his head in the match after a stretch of three bogies and bounced back with a birdie and a whole lot of pars.
Raftevold said that he was impressed with the other golfers and how well they handled themselves in the 100-degree heat and humidity.  However, the conditions eventually took its toll. Joey had trouble finding the fairways and that led to some punch shots out of the trees and hazards. Levi recovered from a rough start but just couldn't put enough of a run together to get under the cut line.
Brendon Shibley played his best but the heat and humidity finally got the better of him after 15 holes when he withdrew. Raftevold added that Brendon has had a successful high school career highlighted by his senior year as the High Desert League Champion.  Brendon can look forward to college golf at College of the Canyons and other venues for years to come.
Next Monday, it's on to Lompoc, California and La Purisima Golf Course, where Sean Mitton will compete in the CIF Southern Section Individual Final Championship.
And this from coach Shirley Ono: 
We have a great group of kids with such a wide range of abilities and goals.  Am hopeful they enjoy the sport, team activities and will continue playing golf well past high school.  We are fortunate to have the BCC support the team with the use of the facilities.
Seniors:  Brendon Shibley, Dewi Bunten, Connor Romero
Juniors: Joey Medora, Matt Ono, Levi Kujawa
Sophomores: Sean Mitton, Alex Gonzalez, Luke Olson, Liam Means
Freshmen: Bryan Gonzalez, Cole Murphy, Rosalind Cardenas, Gannon Daugherty, Brian Jones