After a series of incidents including bullying and graffiti,
the City of Bishop
has closed the City Park skate park until security cameras can be installed.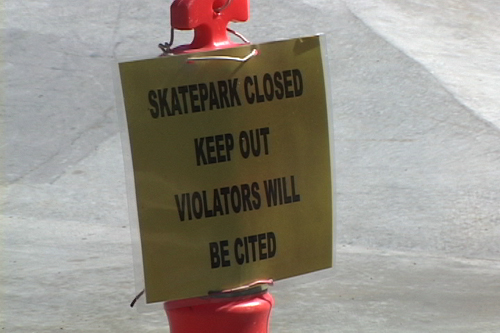 Community
Services Director Keith Caldwell explained that the police have been called out
a number of times recently to respond to incidents that involved older kids
bullying the younger children. A shed containing sports equipment was broken
into and its contents thrown about. With softballs and other sports equipment
scattered around the park, Caldwell
says that nothing was stolen but there was a mess to clean up.
Last time the Bishop
Skate Park
was closed, some one had hopped the fence and spray painted a number of
inconsistent messages on the concrete. Again graffiti is a problem, but this
time the writing is on the picnic tables near the skate park. Caldwell reports that as fast as park staff
can clean the graffiti off the tables, new four letter words and taunts aimed
at the police, appear on the tables.
The Skate Park in Mammoth, does not appear to have the
same issues as Bishop. Mammoth Police report no big cases at the skate park in
recent memory. The most common report that the Police receive at the skate park
is for skaters not wearing helmets. Other town officials cite active police
patrols as well as the possibility that the community effort to build the
Volcom Brothers Skate Park may lead users to self police.
Until security cameras are installed, the skate park will be
closed. Caldwell
says the security cameras should be installed within the next week or two and
will allow the police to monitor the park through the internet. Like security
cameras in businesses and banks, activity will also be taped.
Caldwell
says that the skate park will open as soon as possible.