As parents and students reel from the stark changes ahead in the Eastern Sierra Unified School District, there is one bright light at least. Bishop schools will arrange transportation and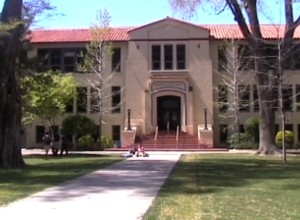 take students from High Desert Academy in Benton.
ESUSD Board member Ann Aylesworth said that she believed the students could be driven to Chalfant where Bishop High School would pick them up. Aylesworth called Bishop and home schooling two options after the closure of the academy.
Bishop School Superintendent Barry Simpson said that ESUSD Superintendent Don Clark called him a few weeks ago to explore transportation for about 10 students from Benton to go to Bishop High.
Simpson said Bishop is willing to pick up students in Chalfant and bring them to Bishop. The addition of nine or ten students will mean more money for Bishop. The students would bring with them Average Daily Attendance or ADA funding from the state.
Simpson said it's extra funding, and the students would fit into the already existing high school program.
After hearing this story, students at the High Desert Academy disagreed with this development being a bright light. Students revealed their deep disappointment and a touch of resentment about the decision to close their school. They say they dont want to go to Bishop High which requires the roughly three hours a day bus ride. The kids like their agricultural program and development of their orchard, garden and poultry programs at High Sierra Academy. The students conclude that We feel that the person who has been in charge of representing us has never shown any interest in what we as the students want or need. If the adults closest to us wont bother to listen to our pleas, what hope is there?(See letter from students under "Blogs & Editorials")