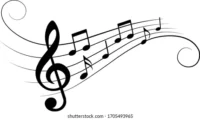 TO:  Local Media of Mass Communication
FROM:  Mark Hatter, Director, Bishop Community Band
DATE: 31 May 2023
RE:  Bishop Community Band Debut Performance
On Monday, the 12th of June, the Bishop Community Band will offer their first concert of the summer at the Gazebo in the Park at 8:00 PM, . The music will include marches, popular songs, jazz arrangements and popular novelty numbers. From now until Labor Day and beyond, this band of local musicians will entertain the community on Monday evenings from 8:00 to 9:00 PM. Bring a chair and/or a blanket and enjoy the cool of the evening with the music of the Bishop Community Band. For nigh unto fifty years local musicians have been serenading the citizens and visitors in Bishop on Monday nights. Every concert is absolutely free of charge. See you there.
If you are a musician and would like to rehearse and perform with the group, or if you have further questions about the Bishop Community Band, please email leader Mark Hatter at "
[email protected]
'. or phone him at (760) 382-0127.