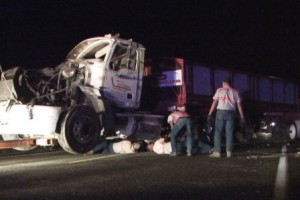 At about 7:53pm last night a two vehicle collision on Highway 6, north of Benton, resulted in injury and a big rig overturning and spilling a load of onions on the roadway.
The accident happened between the California "bug station" and Nevada state line.
Full details about the accident are not yet available, but initial reports show that a F250 pickup towing a flatbed trailer with a pickup truck on it was involved in an accident with a tractor-trailer. Reports indicate that the driver of the pickup truck was injured and transported by ambulance to a medical care facility.
Mono County CHP responded with two units and Highway 6 was closed to traffic in both directions following the accident. CalTrans was called to deal with the 50,000 pounds of onions spilled on the highway.
A fire engine attempted to blow the onions off the roadway with water hoses and later a plow was used to clear the roadway.
Reports show that between 10 and 11pm traffic was escorted through on one lane, then both sides were closed again in order to right the big rig and trailer.
At midnight the big rig and trailer was finally righted and towed away and at approx 12:15am the road was cleared and opened for normal use.
The cause of the accident and condition of the drivers and any passengers is unknown at this time and an update will be issued when it becomes available.