Caltrans has now erected signs north and south of the Independence tribal project that ban big rigs.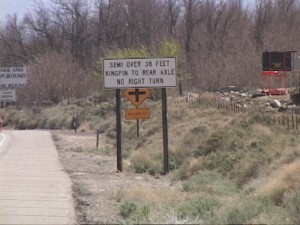 The tribe had moved ahead with a gas station and minimart on the west side of Highway 395 north of Independence. Reports indicated a truck stop would go into the same location. A casino building is apparently there too. Caltrans Director Tom Hallenbeck says that the entrance to all of this seems flawed when it comes to big trucks safely entering and exiting. He said Caltrans has tried to talk to the tribe, but tribal officials have so far refused.
"It's an unsafe situation," said Hallenbeck. As a result, Caltrans has erected signs to warn big rigs that they can not safely turn into the new gas station and casino area.
We have tried repeatedly to reach tribal officials, but the phone line remains busy.