PETS of the WEEK – March 28, 2012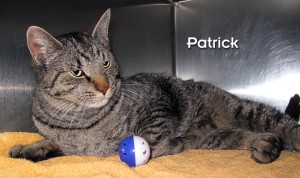 PATRICK is a big, handsome, affectionate silver spotted Tabby. He was found on Early Pond in Bishop, but no one has claimed this dear boy. Now, it's Patrick's turn to start a new chapter in his life — maybe with you?
REGIS is a delightful little Rat Terrier who has completely charmed the Shelter staff and
volunteers alike. We love Regis and know you will, too, the moment you meet this pint-sized pooch with the heart of pure gold.
The Inyo County Animal Shelter has an amazing selection of adorable cats and lovable dogs. Please adopt one today. Visit in person on County Road in Big Pine or on-line at
www.ICAREforPets.org
. HOURS: Tuesday thru Friday, 10 am to 3 pm, Saturday and Sunday 11 am to 4 pm (closed Mondays). Phone 760-938-2715.
Photos by Lisa Schade of ICARE