Inyo County Sheriff's Office press release
Shortly after noon Tuesday, Inyo County Sheriff's Dispatch received notification of a missing member of a four-person fishing group.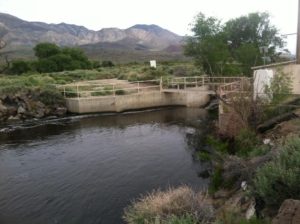 According to the reporting party, the group was alerted when their friend did not return to his vehicle after fishing; he was last seen below the Tinnemaha Reservoir on the east side of the Owens River bank.
A search and rescue was launched and approximately 20 search and rescue members as well as agency representatives began to search the area on foot; additional resources included CHP helicopter H-82 out of Apple Valley, and three all-terrain vehicles.
The victim was located deceased in the Owens River at 5:00pm, near the area where he was last seen.
The victim has been identified as Jon Overgaauw, a 30-year old man from Bellflower, CA. The area where Mr. Overgaauw was located is rocky with swift moving water; preliminary investigations indicate that he appeared to have slipped or lost his footing on the rocks.
Agencies assisting include: CHP H-82, Inyo SAR, Inyo Sheriff, CA Fish and Wildlife, CalFIRE, and Los Angeles Department of Water and Power.