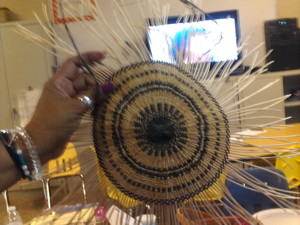 Museum Hosts Big Pine Paiute Tribe's Basket Weaving Class
The public is invited to watch members of the Big Pine Paiute Tribe's Indian Education Center's Basket Weaving Class practice their skills at the Eastern California Museum on Saturday August 30 from 11 a.m. to 3 p.m. Many of the class members are learning basket weaving techniques and skills in order to revive the tribe's rich tradition of basket weaving so it can be passed down to future generations.
The basket weaving class is part of the tribe's cultural enrichment program. In Paiute, the group is called, "Tovowahamatu Tei Tugwishta," which translates into, "Those of Big Pine Our Weavers of Baskets."
The group started meeting in April and began exploring their basket-making tradition by making basket hats, and will also be making winnowing baskets and burden baskets.
While most of the weavers are just learning the art and craft of basketry, some of the teachers have more than 30 years of weaving experience, and an elder weaver is offering 50 years of experience making and weaving baskets.
The basket weaving class is made up of the following members: Jessica Bacoch, the Cultural Coordinator at the Big Pine Indian Education Center; Terri Bowers niece Niece Echo Garza; Charlotte Bacoch and daughter Jessica Bacoch; Charlotte David and daughter Kelly David; Evelyn Miller, daughter Davina Miller and granddaughter Gabriel McDarmott; Cheryl Levine, daughter Rosie Moose and granddaughter Tanya Big Pond; and Gina Peterson, daughter Ciera Peterson and granddaughter Kathorey Bencoma.
Jessica Bacoch noted that two and three generations of weavers are in the group. Although many families have a history of basket making, for several generations those skills and talents were not passed down to the next generation. "We have committed and pledged to ourselves to learn, teach and pass on the art and skills of basket weaving so that it will not die out. We are keeping our Paiute traditions alive, as a reminder that, 'we are still here.'"
The group will also draw inspiration from the Eastern California Museum's impressive exhibit of more than 400 Owens Valley Paiute and Panamint Shoshone (Death Valley) baskets. The decorative baskets are examples of the acclaimed artistic talents and skill of local Paiute weavers working in the first half of the 20th Century. The exhibit is one of the largest displays of the intricate and delicate baskets in the region.
The museum is located at 155 N. Grant St. in Independence, call 760-878-0258 for more information.