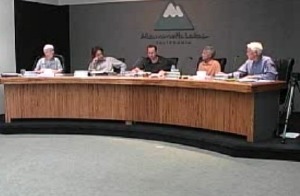 Attorneys and officials from the Town of Mammoth and Mammoth Lakes Land Acquisition continue to mediate a deal on the $43 million lawsuit debt.
Assistant Town Manager Marianna Marysheva-Martinez said there is nothing new to report. She said both sides continue with mediation talks by phone and email. Martinez said, "There is no deal yet." She said that there is no significance to the fact that mediations are not taking place in person. She called it a matter of geographical convenience.
After Bankruptcy Judge Thomas Holman ordered the two parties into mediation, their attorneys did meet in person at the office of MLLA lawyers in the Los Angeles area. Then talks went to phone conference.
Mediation talks started August 6, and the Mammoth Town Council has continued to hold special closed sessions to discuss the points made in mediation. The Council discussed the issues in a closed session Wednesday night with nothing to report publicly. The Council scheduled another special meeting and closed session at 1:30pm Friday on bankruptcy issues.
It is unknown how long the Bankruptcy Judge will allow mediation to continue. MLLA has made it clear that in the absence of a settlement they will object to the Town of Mammoth entering bankruptcy protection.