More than 10 years ago, a huge American Airline plane flew over Mammoth Airport. Back then, it looked like with nearly $30 million from the FAA and a promise from American Airlines that Mammoth would soon deliver major air service. But, just like the American jet, the plan for service disappeared. A series of lawsuits, fights and a loss of funding took the energy out of the plan.
Mammoth Mountain CEO Rusty Gregory reminded the crowd gathered at the new Mammoth Airport terminal about the past, but his punctuation of that – the fact that new air service starts for real December 18th.
On Tuesday, a Horizon plane with passengers, landed at Mammoth Airport. An excited crowd awaited the landing and taxiing into the terminal. Then it was time to check out the inside of the plane, which does hold 70 to 80 passengers. A veritable Who's Who of Mammoth Lakes paraded through the aisle to check out the seats and the feel of the aircraft.
Many talked about where they planned to fly in the previously land-locked Eastern Sierra. At a Mammoth Chamber of Commerce mixer Tuesday evening at the airport, it was time for congratulations and a ribbon-cutting ceremony.
Ruth Harrell, treasurer of the Mammoth Chamber thanked sponsors Alta One, Mammoth Mountain, Mammoth Brewing, Rocky Mt. Chocolate and the Lakefront and Alpenrose restaurants. Harrell added that the arrival of the Horizon plane Tuesday was a big and personal development for Mammoth.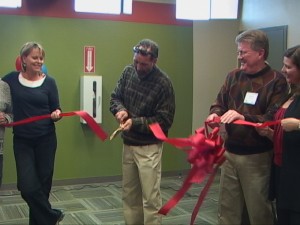 After some more comments, it was time for ceremony. Town Manager Rob Clark did the honors with help from Neil McCarroll, Deb Perriel and Pam Murphy.
Finally, Rusty Gregory said that the community can't rest on the fact that air service has arrived. "We need to build on that service to make sure Horizon stays for the summer. Gregory said it will take the whole community pulling together.