Mammoth officials will move along with improvements at Mammoth Airport as they get ready for air service next December. In Inyo County, officials extended their Request for Proposals for a Fixed Base Operato0r and restaurant operator.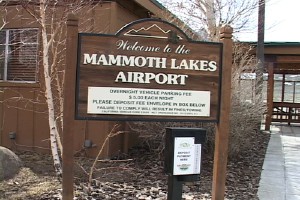 First, Mammoth. The Airport will close down for major improvements as of Monday, May 19th. Officials say the airport will stay closed through September.
At Wednesday's Town Council meeting, council members will consider what's called a Mitigated Negative Declaration for regional air service and the airport terminal project. Officials are expected to amend the town budget to include the terminal improvements with award of the contract to go to Speiss Construction.
The Council will look at another environmental document on the runway rehab and reconstruction project at Mammoth Airport. They plan to award that contract to Qualcon Construction. All of this in anticipation of Horizon Air's planned service between Los Angeles and Mammoth Lakes.
Meanwhile, a Record of Decision is expected to be fil3ed on the air service plan since the final environmental document is done. Officials from Horizon Air will reportedly visit Mammoth Airport this month to talk about ground services and other needs.
At Bishop Airport, officials have extended the deadline for interested parties to hand in a proposal to work as the Fixed Base Operator of the facility. Now, the deadline is May 23rd. Officials hope to make more money for Bishop Airport and stimulate activity.
A second and separate request for proposals asks for someone to operate the airport restaurant. Since the former Sierra Wings restaurant moved out, there has been no restaurant service.
Inyo County also remains in negotiations with LADWP for a longer lease and permission to include light industry.