After reporting that winter air service has been going extremely well in the approximately one month it has been up and running, with an average occupancy rate of 73 percent, the Airport Commission then began to explain one idea they had come up with to help subsidize summer air service by 2010.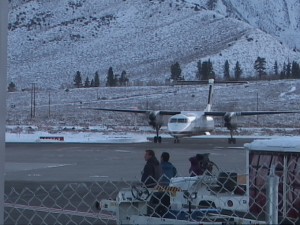 Airport Commission Chair, and Senior VP at Mammoth Mountain Ski Area, Pam Murphy clarified that nothing is set in stone, but that one idea the commission had was to set up a Business Improvement District, or BID. Basically the BID would assess businesses in order to raise the funds needed to support the summer service. The rough estimate that the commission had come up with was $500,000. This was based on the type of plane, which would still be Horizons Q400, approximately 75 days of service and an estimated 40 percent of seats filled.
Mammoth Mountain Ski Area is very much in favor of a BID, and we make up more than 50 percent of the business district, Murphy said.
In order to get the BID approved a Management District Plan has to be established that describes the proposed district. Then, a petition has to be signed by at least 50 percent of the businesses that would be assessed. After that the BID goes to Council and through the public process.
Part of the reasoning behind wanting to get summer air service going is to reach more quickly the 10,000 enplanements in one year that is needed in order to receive $1 million in funding from the FAA. This $1 million was banked on when the Town borrowed from the General Fund to complete the upgrades at the airport like the expanded runway and the remodel of the terminal building. However, the commission and Town Manager Rob Clark all agreed that 75 days of summer service would not get them to the 10,000 enplanements and that a second daily flight during winter service was also needed.
The worst thing you can do is stay at one flight per day, said Airport Commissioner John Walter. It becomes a financial drain.
Since the BID would be a lengthy process, MMSA is currently negotiating privately with Horizon for other possibilities in summer 2009.