The good news – the treacherous two-lane sections of Highway 395 north and south of Independence now move forward to become four lanes. The bad news – many 100 year old trees and younger have fallen to chain saws so Caltrans can build sidewalks in rural Independence.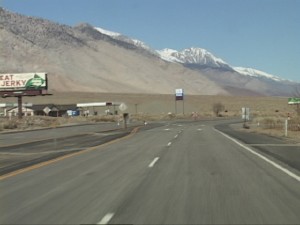 First the four-lane good news. Caltrans announced that starting next Monday, Granite Construction will begin to merge southbound traffic from two lanes down to one lane from just south of the Fort Independence gas station to the entrance of Independence.
On the south end of town, northbound traffic will begin to merge from two lanes to one lane from north of the Alabama Gates to Independence.
Traffic through the town of Independence will stay on 395 throughout the duration of the project. Access to Independence businesses will remain uninterrupted.
Granite chainsaw crews have moved rapidly through the lines of old trees on the north end of Independence. While most all support the four-laning of 395, many have objected to Caltrans insistence for sidewalks in Independence, which required the removal of 100 trees.
The shearing down of the entrance trees of great shade value, has saddened many residents, used to the rural grace of the welcoming trees.
Still up in the air – the funding for this project – initially suspended by the State Treasurer, then exempted. A spokesman in the Treasurer's office said the exemption will go away if there is no firm state budget by February 1st – this Sunday.