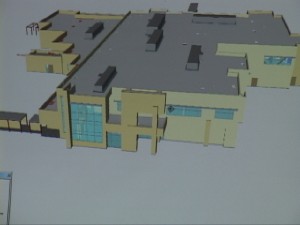 In a couple of years, Bishop will have what amounts to a brand new hospital. Residents approved a bond measure which will mostly fund the new, state of the art facility. This week, Board members and the audience watched a 3-D presentation of the new building plans a technique which construction managers say has already saved tens of thousands in change orders.
A representative of Turner Construction offered a moving view of the outside of the new hospital with a two story, dramatic window on the Line St. side, zooming around to the back and the new emergency room and new operating rooms.
The special computer program takes viewers to the inside and the guts of the new facility. Thats where the sub-contractors can use whats called clash detection to tell when one part of the building doesnt line up with another.
New plans include spacious operating rooms, a new and much larger emergency room area, new patient rooms and many other state of the art facilties. The full plan will come together by the end of February, according to officials.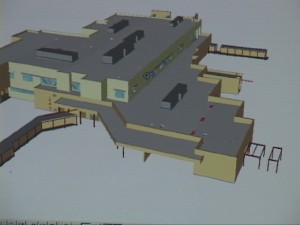 Meanwhile, the Office of State Health Planning gave Northern Inyo Hospital a permit to demolish the old hospital building. The demolition clears the way for the new building. The point of contention was a new and much more elaborate foundation. Officials say that demolition will start next week and the Emergency Room entrance and all other entrances will go to the front door of the hospital.